The sporty all-rounder
The Raqoon is light, forgives mistakes and is fun to fly - not only for alpinists and XC pilots. Even with zero wind the very light canopy starts easliy.
If you are preparing for the launch with your Raqoon, you know that it doesn't take much to start, because this is what the Raqoon was designed for. With its hybrid properties, it starts with 30% less wind and running. The control phase becomes easier. Its properties in the air also help you: with its lighter canopy it wants to lead you into the thermals.
Whether in gliding or thermals: thanks to the latest technologies such as HPCD, PPN and BGS, the RAQOON offers flight characteristics that were previously only known from the competition class – and this in the EN-A segment.
Its launch behaviour is extremely simple and good-natured. Even in zero wind, the lightweight canopy reliably climbs above the pilot with little effort. In addition, the RAQOON's excellent low-speed flight characteristics allow a low take-off speed, allowing you to maintain a longer control phase at take-off.
The RAQOON is based on the latest findings of flow simulation. Complex calculations of the High Pressure Crossport Design (HPCD) not only reduce weight, but also maximize cross-ventilation of the Crossports. The efficiency of the system is already evident in the lifting phase. It provides a very fast pressure build-up and gives the wing a balanced internal pressure during flight. The 3D-shaping and optimized wing prestressing ensure perfect airflow, while the Precision Profile Nose System (PPN) ensures optimum airflow to the profile. Miniribs and the Brake Gathering System (BGS) help the profile achieve greater shape fidelity at the rear edge and transfer control impulses precisely to the wing. A very straightforward line concept with just a few main lines ensures easy handling and a good overview for ground handling. The risers are equipped with the Pilot Assistant (PAS) – in addition to the colour markings, icons provide a better orientation of the line levels.
Only high-quality durable materials were used for the material mix. When it comes to porosity, the lightweight material with double coating is clearly superior to heavy materials. This is now confirmed by long-term results and thus refute the myth that heavier materials should achieve better check results.
Andreas Schubert about the Raqoon
The Raqoon is the latest development in the upper EN-A segment. The balanced flight and material characteristics distinguish it as a particularly well-suited companion from the first high altitude flights to thermal flying and the first cross country experiences.
Thanks to the lightweight fabric, its launch and reverse launch characteristics are definitely among the best and easiest in paragliding. At the same time, the leading edge and upper canopy are robust through the use of 5g/m2 heavy fabric and therefore also suitable for training or frequent groundhandling.
Glide performance of the B-Class
In the air the Raqoon impresses with a glide ratio that until 2015 marked the B-Class. In thermals it turns flat with very little sinking and without dipping away. This is confirmed by the test pilots, who have been the highest in the test areas at all times. The reason for this is the reduction of the minimum sink rate by 0.1 m/s due to a larger surface area of approximately 2 square meters, which improves the climb performance by around 10% compared to most other gliders of almost all classes.
Its take-off speed is low, which is an enormous advantage in the alpine terrain with little wind. Landing is also much easier for beginners. The trim speed is 33 - 36 km/h - depending on the suspension weight - enough to safely fly against the wind in a difficult meteorological environment. When the wind is increasing or during cross country flights, the speed can be increased to 44 to 48 km/h, depending on the load, using the speed system.
Extreme flight conditions
Extreme flight conditions are also extremely rare and can occur practically only after weather-induced overburden. In principle, the profile of the canopy is considered to be one of the most stable so far (see DHV Safetyclass Emotion 3, (same profile)). Even if it did collapse, the wing reacted with low overall dynamics in countless tests.
In collapses it turns away between 90° (and only with large collapses) up to a maximum of 180°, dives moderately forward and has got my personal best marks for collapses in the lower to medium weight range due to the low sink rate. Even simpler behaviour in collapses was only observed with lower performance paragldiers (see "Fluglehrerpraxistests Papillon"). Frontal collapses immediate re-open occurs after a moderate dive forward. All in all, the dynamic in frontal collapses is also low.
Rapid Descent Methods
The B-stable is reliable and easy to fly compared to its predecessor models Bodyguard 1 to 3. The wing tilts slightly backwards during the introductory phase, begins to sink and remains very stable, even with asymmetrical operation. The sink rate is slightly lower due to its larger surface area of 10 m/s compared to other models. The recovery is immediate without delay. The most common rapid descent method is using "Big Ears". The outer lines are very well marked. They allow a simple entry for relaxed flying with a higher descent rate, which can be increased from 2.5 m/ s to 3.5 m/s with the use of a speed system. The recovery is immediate. I have only flown the spiral with the BODYGUARD 7 a few times. The wing has comparatively longer lines, which leads to slightly higher centrifugal forces in the manoeuvre. Therefore, this manoeuvre is only acceptable with training. For sink rates above 10m/s, an active flying style is required for the recovery to avoid further turning. However, active flying is the basis for flying spirals, which are regarded as the most demanding rapid descent method. In the upper weight range, the glider is very manoeuvrable, which also means increased dynamics in all exceptional flight conditions due to the lower roll damping. Talented pilots can experience their first stalls, flightbacks, helis and sats on the BODYGUARD 7. I had great fun, because all manoeuvres remain slower and thus also suitable for older test pilots ;)
My conclusion
The Raqoon is the first recommendation our average customer profile due to our safety requirements and our claim to promise the most balanced * flying characteristics.
* Greatest measurable glide performance with the safest tested extreme flight characteristics
Papillon RAQOON
XS
S
SM
M
L
XL
Start weight [kg]
55-70
60-85
80-95
85-105
100-120
120-140
Flat area [m²]
23
25,5
28,5
30
31,5
35
Projected area [m²]
19,119
21,197
23,691
24,938
26,184
29,51
Flat wingspan [m]
10,724
11,292
11,937
12,247
12,55
13,323
Projected wingspan [m]
8,273
8,711
9,209
9,449
9,682
10,278
Flat AR
5
5
5
5
5
5
Projected AR
3,58
3,58
3,58
3,58
3,58
3,58
Chord: Center/ Wingtip [m]
2,550 / 0,721
2,686 / 0,769
2,849 m / 0,805
2,913 m / 0,823
3,008 / 0,850
3,186 / 0,901
V-Trim [km/h]
~ 37-39
~ 37-39
~ 37-39
~ 37-39
~ 37-39
~ 37-39
V-Max [km/h]
52 +
52 +
52 +
52 +
52 +
52 +
Bridle height [m]
6,649
7,001
7,401
7,593
7,781
8,26
No. of Cells
36
36
36
36
36
36
Glider weight [kg]
3,45
3,75
3,95
4,25
4,55
4,85
Bridle length [m]
243
256
269
279
286
304
Line diameter [mm]
0,95 / 1,2 / 1,65
1,8 / 2,0
0,95 / 1,2 / 1,65
1,8 / 2,0
0,95 / 1,2 / 1,65
1,8 / 2,0
0,95 / 1,2 / 1,65
1,8 / 2,0
0,95 / 1,2 / 1,65
1,8 / 2,0
0,95 / 1,2 / 1,65
1,8 / 2,0
Speed system / trimmer
Yes / No

Yes

/ N

o

Yes

/ N

o

Yes

/ N

o




Yes

/ N

o

Yes

/ N

o

Certification
EN-A
EN-A
EN-A
EN-A
EN-A
EN-A
Paramotor Certification
Yes
Yes
Yes
Yes
Yes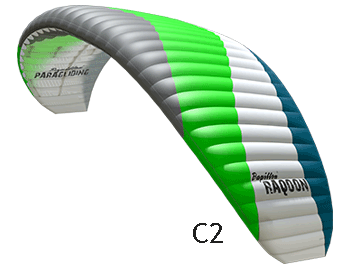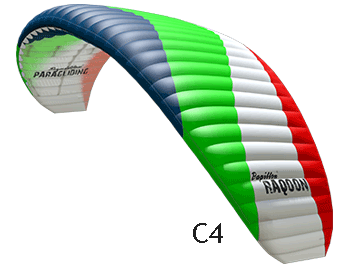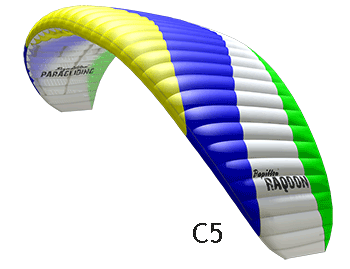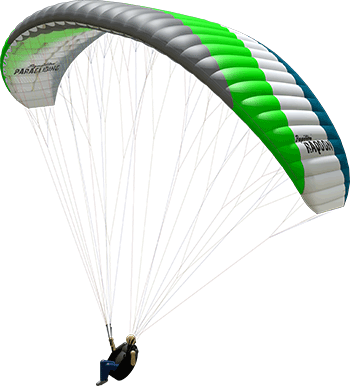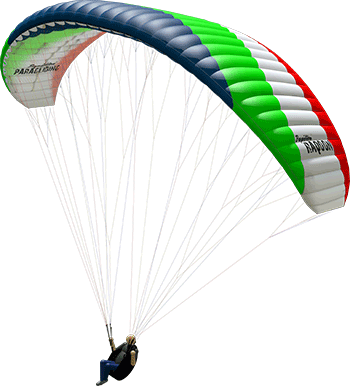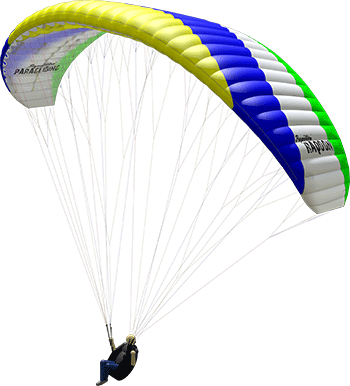 Paraglider
Compression Bag
Compression Strap
---
---
---
---
---
---
---
Review product
No review available for this product.
---
Similar products
Take a look at our similar products.