Maximum Safety
The first flights. Your heart beats to your throat. Launch your glider, feel the lifting power, lose the ground under your feet. Nothing has ever been more exciting. Maximum safety of the wing and confidence in the instructor are the basic requirements for starting your pilot career. The Fancy has achieved the highest marks in extensive tests for the passive safety of paragliders in 2017 and the flight instructor teams love their Fancy. Also if you want to fly in the mountains during your holiday, the Fancy is your right choice.
The Fancy is based on the experience of Papillon Paragliding, Europe's largest paragliding school. This glider combines all the features that allow you a safe and successful entry into the aviation sport. The Fancy accompanies you on your way from a pedestrian to a pilot.
Better Orientation
The risers are equipped with the Pilot Assistant (PAS) – colour markings and icons provide a better orientation of the line levels. In addition, the main suspensions are colour coded for better orientation.
Newest Paragliding Development





Besides the PPN, the 3D shaping is providing optimized inflow and form stability of the cell opening area.
Elaborate calculations of the ballooning in combination with the optimized pre-tensioning of the wing provide a balanced pressure distribution and circulation of the profile.
Mini-ribs at the rear end of the wing give the profile more form fidelity and optimize the aerodynamics additionally, especially when braking.
The High Pressure Crossport Design (HPCD) provides an ideal aeration of the crossports, which helps to balance the pressure differences on the inside of the wing, and therefore enhances the safety.
Uncompromising safety with the latest technology. The innovative Pressure Balance Valves (PBV) in the lower sail provide additional ventilation at extreme angles of attack and are activated when a quick pressure build-up is required. During a collapse, valve by valve opens and ventilates the canopy. The other side remains optimally filled and unaffected. In the B-stall, the valves open over the entire wing width, the canopy sinks smoothly and controlled with 8 to 10 meters.
The PBVs not only provide impressive collapse resistance and generally forgiving flight characteristics, but also incomparably uncomplicated take-off behaviour. The system works so well and quickly that it prevents any inclination to overshoot at take-off. The glider has been designed to ensure maximum safety and to forgive pilot errors.
In spite of all the safety, the FANCY does not miss out on the fun of flying. Therefore, the fancy is equipped with a flat aspect ratio of 4.5 and has an innovative line geometry: 2 main lines on the A level, 3 on the B level (incl. Stabilos) and again 2 on the C level minimize the resistance. Four line diameters from 0.95 to 2.2 mm represent the optimum balance between durability and the lowest possible cross sections. The FANCY can be turned flat and reaches 39 km/h in trim speed and accelerates up to 48 km/h.

Four line diameters from 0,95 up to 2,2 mm provide the optimized balance between durability and preferably low cross-section.
EN-A-safety combined with a trim speed of about 39 km/h, accelerated up to 48 km/h.
High-end innovations for beginners, for example: Pressure Balance Valves (PBV) improve the ventilation of the canopy at high angles of attack.

FANCY
XS 55
S 60
SM 65
M 75
L 90
Start Weight [kg]
55-75
55-80
65-90
75-100
90-120
Flat Area [m²]
22,0
24,0
26,0
28,0
30,5
Projected Area [m²]
18,81
20,52
22,23
23,94
26,8
Flat Wingspan [m]
9,95
10,39
10,81
11,22
11,71
Projected Wingspan [m]
7,9
8,26
8,59
8,92
9,31
Flat AR
45
45
45
45
45
Projected AR
332
332
332
332
332
Chord: Center/ Wingtip [m]
2,67 / 0,752
2,788 / 0,786
2,902 / 0,817
3,012 / 0,849
3,143 / 0,885
V-Trim [km/h]
37 – 38
37 – 38
37 – 38
37 – 38
37 – 38
V-Max. [km/h]
47 – 48
47 – 48
47 – 48
47 – 48
47 – 48
Bridle height [m]
6,368
6,651
6,923
7,184
7,498
Nr. of Cells
29
29
29
29
29
Glider Weight [kg]
4,4
4,7
4,95
5,25
5,6
Bridle Length [m]
242,5
255
266,9
278,3
292,1
Line Diameter [mm]
0,95/1,65/1,8/2,2
0,95/1,65/1,8/2,2
0,95/1,65/1,8/2,2
0,95/1,65/1,8/2,2
0,95/1,65/1,8/2,2
Speed system / trimmer
Yes / No
Yes / No
Yes / No
Yes / No
Yes / No
Certification
EN-A / LTF-A
EN-A / LTF-A
EN-A / LTF-A
EN-A / LTF-A
EN-A / LTF-A
Certified standards and procedures
LTF 91/09
EN 926/1 & 926/2
LTF 91/09
EN 926/1 & 926/2
LTF 91/09
EN 926/1 & 926/2
LTF 91/09
EN 926/1 & 926/2
LTF 91/09
EN 926/1 & 926/2
Folding lines used for certification
No
No
No
No
No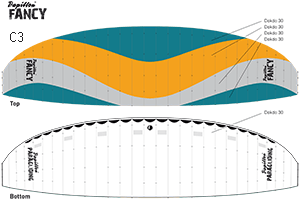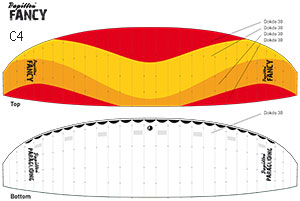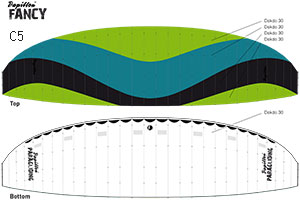 paraglider
inner bag
compression strap
manual (PDF)
Review product
No review available for this product.
---
Similar products
Take a look at our similar products.