LET YOUR LIMITS BEHIND YOU!
Built to achieve big goals, the ESCAPE has been designed as a powerful, high-performance, high-EN B glider, for those who want to fly ambitiously and find new challenges.
Developed as a wing for experienced cross-country pilots, the ESCAPE's strengths lie in its comfortable, direct handling, excellent glide performance and high speed in accelerated flight. Turning and sensitive, you can climb with it in the slightest thermal and thus survive even during difficult phases of your cross-country flight. In turbulent air he lets you stay active with his precise feedback and refines your flight feeling. Leave your limits behind and fly stronger!
With its optimized balance of performance and safety, the ESCAPE is a sporty glider in the upper end of the B category aimed for experienced pilots looking for a solid wing to achieve big goals and keeping the passive safety of the B category.
The ESCAPE moves compact and neat in the air; It can be wonderfully high-pitched and tightly circled in strong thermals, but converts even the slightest lifting efficiently into climbs and steers itself smoothly over the outer wing when turning flat. It will give you more time on your cross-country flight to find the next good source of thermals.
It's remarkable gliding rate lets you arrive relaxed on high altitude transitions and its fine controllability via the C-bands helps you to effectively find the best possible line. Even fully accelerated, the ESCAPE flies strongly against the wind and gives you confidence through its precise feedback on the rear bands.
High stability and rattle resistance were achieved with improved design and shark nose design of the leading edge; the optimization of the brake application points increases maneuverability and efficiency in turning. This makes the ESCAPE a balanced, round wing, whose extreme flight behavior is typical of the class, but remains manageable.
Designed for ambitious pilots, the ESCAPE, as an excellent cross-country wing, offers you a performance that you will find in higher categories. At the same time, it also gives you reliable feedback and thus a good feeling in the air and brings fun in flying, so that you can fly beyond your limits.

Pilot-Assistent-Konzept (PAS)
Color-codings as well as icons are providing a fast overview – to have better orientaion on the risers.

Precision Profile Nose (PPN)
The established valves in the bottom sail are providing additional aeration in extreme angles of attack.

3D-Shaping (3DS)
The 3D shaping is providing specific tension control of the wing and therefore optimized balooning and wrinkle-free outline guidance.

High Pressure Crossport Design (HPCD)
It provides an ideal cross aeration of the crossports, that helps to balance the pressure differences on the inside of the wing efficiently and therefore ensures a balanced internal pressure in the whole wing.

Brake Gathering System (BGS)
Through this system the range of of the trailing edge is shortened, which positively influences the brake characteristics.
ESCAPE
XS
S
M
L
Recommended Start weight [kg]
65 – 85
80 – 97
93 – 110
105 – 125
Flat area [m²]
22,97
24,97
26,97
28,97
Projected area [m²]
19,57
21,27
22,97
24,67 
Flat wingspan [m]
11,74 
12,24 
12,72
13,18
Projected wingspan [m]
9,45
9,85
10,24
10,61
Flat AR
6
6
6
6
Projected AR
4,568
4,568
4,568
4,568
Chord: center / wingtip [m/m]
2,390  / 0,686 
2,492  / 0,716
2,590  / 0,744 
2,684  / 0,771 
V-Trim [km/h]
39 – 40
39 – 40
39 – 40
39 – 40
V-Max. [km/h]
53 – 54
53 – 54
53 – 54
53 – 54
Bridle height [m]
7,10 
7,40
7,69
7,97 
Nr. of cells
61
61
61
61
Glider weight [kg]
4,4
4,6
4,85
5,2
Bridle length [m]
221,6 m
255,4 m
289,3 m
322,4 m
Line diameter
0,5 / 0,8 / 1,1 / 1,4
1,6 / 1,8
0,5 / 0,8 / 1,1 / 1,4
1,6 / 1,8
0,5 / 0,8 / 1,1 / 1,4
1,6 / 1,8
0,5 / 0,8 / 1,1 / 1,4
1,6 / 1,8
Speed system / trimmer
Ja / Nein
Ja / Nein
Ja / Nein
Ja / Nein
Certification
EN-B / LTF-B
EN-B / LTF-B
EN-B / LTF-B
EN-B / LTF-B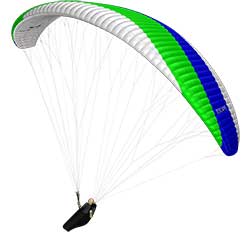 Paraglider
Compression Bag
Compression Strap
Papillon Rucksack
Review product
No review available for this product.
---
Similar products
Take a look at our similar products.