The new A class (EN/LTF A)
PRION 4 - fly safely
The PRION 4 offers much and demands little. Regardless whether you are making your first turns in a thermal or if you are flying big distances in unknown areas, in every case you will benefit from the simplicity and innovations designed into the PRION 4.
Safe and intuitive. The colour-coded risers and lines reduce the risk of mistakes during your pre-flight check. Launching this weight-optimised wing is particularly easy. In the air, the PRION 4 excites with its agile handling and light brake pressure. The PRION's new profile and low aspect ratio provide big safety margins at any flight attitude.
Proven technologies and high quality materials. The PRION 4 features nearly all technologies which also distinguish our higher certified wings. The redesigned internal architecture with additional diagonal ribs makes the wing more rigid and therefore more solid in turbulent air. Thanks to a newly developed cloth (Dokdo20D) and the structurally optimised slots in the wing's interior, we were able to reduce its weight by nearly 10%. This benefits the wing's agility and behaviour.
Performance in thermals and during cross-country flights. With an FAI triangle of more than 209km, the PRION 3 proved its suitability for cross-country flying at the highest level. This is all the more true for the PRION 4. The brake line is made of PPSLS 65 - the thinnest sheathed line on the market. This means very little drag, whilst the lines remain easy to sort. The balanced handling and the compact canopy will enable you to climb efficiently in thermals. The PRION 4 - no limits to your adventures.
Requirements
The PRION 4 is a very docile wing with simple launch and landing characteristics. It convinces with outstanding simplicity when preparing for take off, pleasant handling and a high level of passive safety. Thanks to its performance, it is also suitable for long cross-country flights as well as relaxed soaring.
The PRION 4 is certified for instruction.
Useful information
The PRION 4 only has two line galleries and approximately 25% fewer line elements than its predecessor. This makes the sorting of the lines much easier.
The brake handles and risers are differentiated by colour: red (left) and green (right). Additionally, the back of the risers is marked. This helps to avoid clipping in the wrong way.
The PRION 4 is fitted with an Adjustable Handle as standard. This is an innovative brake handle, which can be individually adjusted to the pilot's hand and this makes it easier to hold in the correct position. The Adjustable Handle was developed in collaboration with the DHV.
The risers and lines are colour-coded as recommended by the Paraglider Manufacturers Association (PMA): A = red, B = yellow, C = blue, brake = orange, stabilo line = green.
The wing interior of the PRION 4 has been weight-optimised and we have used the most up-to-date cloths available. This makes the wing easier to carry, simpler to launch and more gentle in extreme flight. For more information see the Weight Optimised section below.
The PRION 4 has been designed with many of NOVA's innovations like Smart Cells or Double 3D Shaping – for more information see the Technologies section below.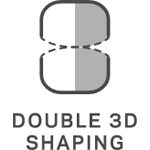 Flat profile nose. Anyone who tries to fold a piece of paper around a ball will notice that there are always creases. The nose profile of a paraglider is the same - the sail cloth has to adjust to both the profile and ballooning effect (cells are round, not straight). Double 3D Shaping uses additional seams to reduce creasing and therefore increases the performance of the wing.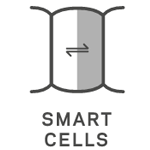 Optimised cell widths. Smart Cells counteract the variable force distribution within the wing that are caused by the line attachments. In NOVA paragliders constructed using Smart Cells, the cell widths have been adapted to the load - basically, intelligent cells. Wings with SmartCells fly more calmly, are more compact and glide better.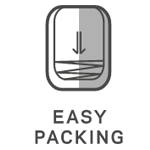 Comfort on the ground. All NOVA paragliders are made to be easy to use. For packing you can use a concertina bag, but it is not essential. Our extensive experience with rods has taught us that the packing method has little influence on the durability of the wing. Bent rods quickly spring back into their original shape.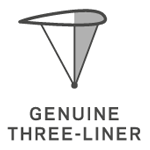 Less is more. Our idea of a three-liner with a reduced amount of line lenght allows us to construct wings with very good performance and a high degree of passive safety. The way we have conceptualised the lines has made it possible to manufacture wings which are collapse resistant; but when they do collapse, the collapsed area is generally less extensive. This significantly improves the wing's extreme flight behaviour.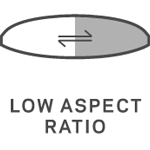 More compact. The aspect ratio of a glider is not the only factor in passive safety, but still a very important one. A high aspect ratio favours cravats after asymmetric collapses, generally shortens brake travel and normally makes wings more difficult to fly. Nova's analytical tools permit us to build performance wings even with a low or moderate aspect ratio.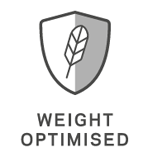 Light and durable. Paragliders in the Weight-optimised category are lighter than conventional paragliders - but offer the same mechanical stability and durability. These wings are lighter to carry, easier to launch and are therefore suitable for hike & fly. Weight-optimised is aimed at pilots who appreciate light weight without compromising on durability.
Technical data
XS
S
M
L
Number of cells
36
Projected span
7,81
8,25
8,66
9,25
Projected area
19,25
21,52
23,66
27
Projected aspect ratio
3,17
Flat span
10,37
10,97
11,5
12,29
Flat area
23,26
26
28,59
32,63
Flat aspect ratio
4,63
Line diameter
0.76/ 0,95/ 1.3/ 1,9/ 2,1
Line length
6,15
6,5
6,81
7,28
Total line length
206
218
228
244
Max. chord
2,78
2,94
3,09
3,30
Min. chord
0,91
0,97
1,01
1,08
Weight
4,15
4,5
4,8
5,2
Recommended take off weight
55-85
75-100
90-110
100-130
Certification (EN/LTF)
A
A
A
A
Materials
| Leading edge: | Dominico 30D, 41 g/m2 |
| --- | --- |
| Top surface: | Dominico 20DPS, 33 g/m2 |
| Lower surface: | Dominico 20DPS, 33 g/m2 |
| Profile ribs (suspended): | Porcher Skytex 40Hard, 40g/m2 |
| Profile ribs (unsuspended): | Porcher Skytex 40Hard, 40g/m2 |
| Main lines: | Cousin Technora 2.1 |
| Gallery lines: | Liros TSL 140 |
| Brake lines: | A 7850-240 / DSL 70 / PPSLS65 |
| Risers: | Polyester 20mm / Kevlar 12mm |


SPECIAL EDITION


Nova Rucksack
Stuff Sack
Windsock
Repair kit
Speed system

Manual

Review product
No review available for this product.
---
Similar products
Take a look at our similar products.
Customers who bought this product also bought
Customers who bought this item also bought one of the following products.